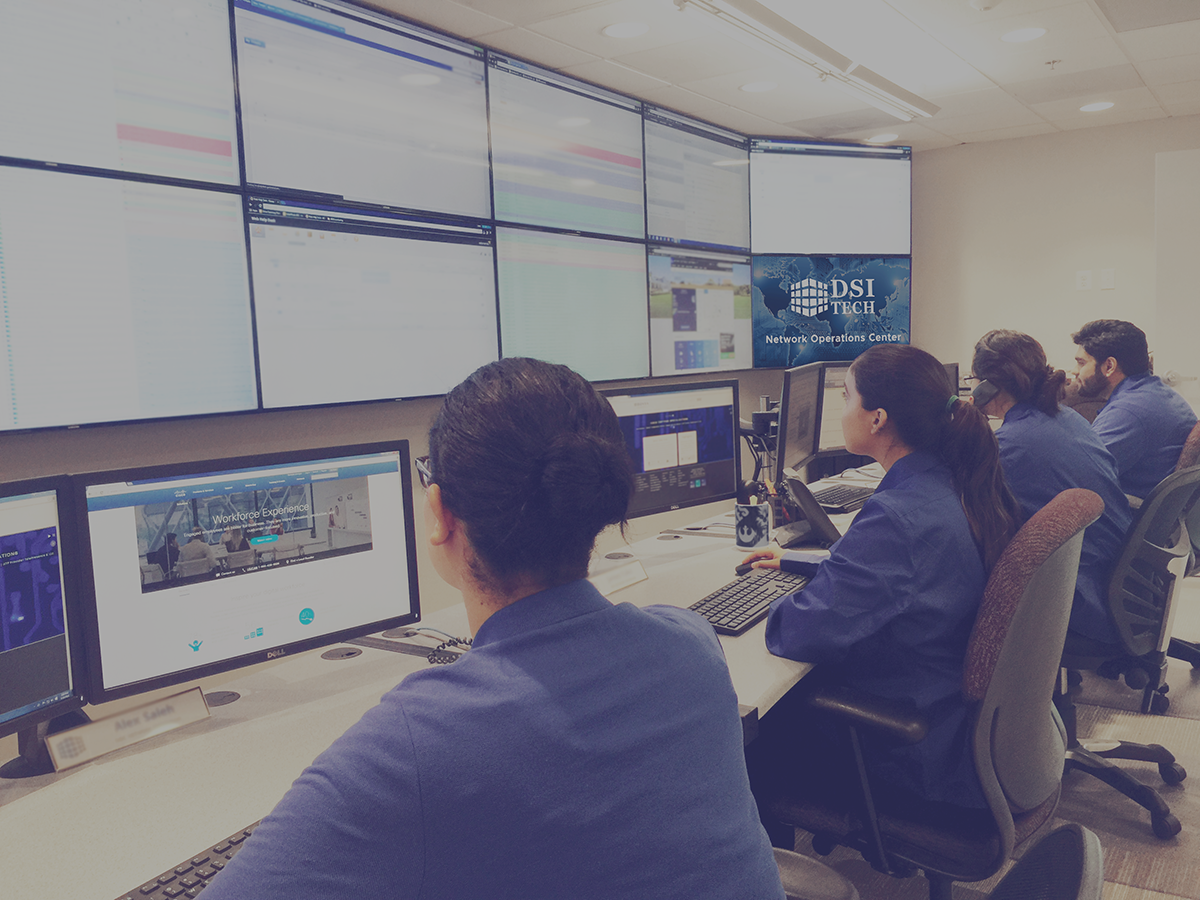 DSI Tech Services
Managed Network Services & Managed Security Services
Managed Network & Security Services
24x7x365 monitoring and management of your network, infrastructure, and security devices, with onsite incident response services as needed.
Managed VoIP (Hosted Voice)
We do the hosting and managing of telephony for you. This service will save your company from the potentially expensive costs of having to invest in VoIP equipment and IT staff to manage the system.
Managed Webex
DSI Tech will provide training, preparation, and management of Webex Suite & Products. We will train your team on the Webex platform to ensure product adoption and effective execution. Our team of experts will assist with Event & Meeting creation, preparation (includes hosting a mock event/meeting so that you feel 100% comfortable hosting live on your own), and technical support (includes troubleshooting assistance and panelist set up with Best Practices training). We will even attend the event/meeting (if requested) to provide continued support. Enjoy peace of mind knowing that your event or meeting will run smoothly from start to finish. We are excited to offer this service to help make your transition to virtual events, meetings, and telework seamless!
Managed Wireless
We manage your wireless network and wireless security infrastructure for you. This service will allow your employees and guests to work anywhere within your network's premises (inside as well as outside) over a secure wireless network. We also leverage wireless services to deliver analytics and insights into user and guest usage behavior across multiple domains with integration of products like built-in analytics tools, DNA Spaces, and DNA Center. This leads to more personalized experiences for your users and organization. And since it's a managed solution, there is no management overhead for your team, so your engineers can focus more on user experience and application performance instead of worrying about day-to-day wireless operations. Read more about our Cisco Powered Meraki Access and Secure Access services.
Managed Services are an important part of your IT team that ensures there is no lapse of coverage and that you get maximum performance out of your network and IT purchases!
Do one or more of these problems look familiar to you?
☐ Bring Your Own Device (BYOD) security issues
☐ Current firewalls and security products not working, ineffective, and/or difficult to use/understand
☐ Fear of security threats lurking and what to do if they happen
☐ Managing multiple security policies
☐ Not enough staff/time to dedicate to preventative measures ("putting out fires" and/or using temporary fixes)
☐ Phishing attacks & threats
☐ Product Paralysis: Which software/hardware/solution is best for our environment?
☐ Malware & Ransomware fears
☐ Unknown vulnerabilities and unidentified threats in the network
☐ Urgency to take preventative action before threats happen
DSI Tech Managed Services are flexible and scalable using customizable SLAs to ensure reliability and to keep pace with technology, security, and business requirements. We provide 24x7x365 remote monitoring and our services include: Availability & Health Monitoring • Anti-Viral Services • Change, Event, & Release Management • Collaboration & Wireless Solutions • Endpoint Security • Help Desk • Incident Response • Intrusion Detection & Response • Managed Firewall • Patching & Updates • Security Policy Management • Software & Product Support • Virtual Private Network (VPN) • Vulnerability Scanning & Reporting
Covered Hardware:





Benefits of Managed Services

Lower IT Costs
DSI Tech offers predictable monthly costs and a defined Service Level Agreement (SLA) to proactively minimize network downtime failures, ensure consistent maintenance and security, and support timely and cost-effective IT day-to-day operations. We also offer Block Hour Services for periodic efforts such as patching, upgrades, or general support.

Increase
Productivity
Outsource and supplement IT services to focus resources on core business strategies, providing agile IT governance for higher output, a competitive advantage, and more time to pursue new initiatives.

Improve Security
We can help you prevent threats and keep business data secure. Our team works with network applications, devices, and software to identify vulnerabilities, threats, rogue APs, and trouble spots, sending alerts and isolating problems for early detection.

Get Support
Get peace of mind with 24x7x365 support and real-time analysis of incidents, performance & troubleshooting issues, and coverage. Receive scheduled reports and data to improve business decision-making and awareness.
Our Customers:






Tools that we use:
Why Choose DSI Tech for Managed Services?
Capability & Credibility
✔ Decades of experience, technical knowledge, organizational structure/processes, and financial depth.
✔ Financially stable and growing; providing transparent payment schedules and costs.
✔ High level partner statuses with top vendors.
✔ Recipient of multiple partner awards including Cisco Customer Satisfaction Partner of the Year.
✔ Term contracts with Federal and State & Local Government and Education (SLED) customers.
Certification
DSI Tech is a Cisco Cloud & Managed Service Provider and a Duo Managed Service Provider, demonstrating an elite level of expertise to sell and deliver cloud and managed services.
We employ a team of highly trained and certified network engineers including Cisco Certified Internetwork Engineers (CCIE) (including specializations in Service Provider and Security) and Certified Information Systems Security Professionals (CISSP).
Customer Service
DSI Tech puts the customer first and understands the importance of providing a valuable experience from start to finish. We aim to provide the highest level of customer service with quick response times, various support options, cost-effective solutions & services, and quality partnerships with vendors.
Next Steps
Interested in Managed Services? Have questions?
571-707-3636 (main) | 888-286-3896 (toll free) | [email protected]
Learn More DSI Tech Offerings
Read More About Our Projects: