DSI Tech Federal Contracts
Contract Information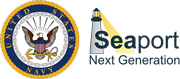 SeaPort-NxG is the Navy's electronic platform for acquiring support services in 23 functional areas including Engineering, Financial Management, and Program Management. The Navy Systems Commands (NAVSEA, NAVAIR, NAVWAR, NAVFAC, and NAVSUP), the Office of Naval Research (ONR), Military Sealift Command (MSC), and the United States Marine Corps (USMC) compete their service requirements amongst 1800+ SeaPort-NxG Indefinite Delivery Indefinite Quantity (IDIQ) multiple award contract holders. Simply stated, SeaPort-NxG provides an efficient and effective means of contracting for professional support services and enhancing small business participation. The Navy conducts Rolling Admissions to allow new industry partners the opportunity to participate.
Contract Number
N0017821D9045
Contract Term Dates
Base order period is July 14, 2021 – January 1, 2024. Option period is January 2, 2024 – January 1, 2029.
Contract Type
IDIQ – Firm Fixed Price (FFP), Cost Plus Fixed Fee (CPFF), Cost Pluse Incentive Fee (CPIF), and Cost Plus Award Fee (CPAF).
Available To
All warranted Contracting Officers from the Naval Sea Systems Command, Naval Air Systems Command, Space and Naval Warfare Command, Naval Supply Systems Command, Military Sealift command, Strategic Systems Programs, Naval Facilities Engineering Command, Office of Naval Research, and the United States Marine Corps are authorized to place orders under this IDIQ contract, using the electronic SeaPort portal.
Contract Scope
The SeaPort Next Generation Contract (SeaPort NxG) provides for Engineering and Program Management Services that span the entire spectrum of mission areas and technical capabilities supported by the Department of the Navy (DON).
Functional Areas under Engineering Services

Engineering, System Engineering, and Safety and Process Engineering Support
Software Engineering, Development, Programming, and Network Support
In-Service Engineering, Fleet Introduction, Installation and Checkout and Provisioning Support
Measurement Facilities, Range, and Instrumentation Support
Interoperability, Test and Evaluation, Trials Support
Research and Development Support
Modeling, Simulation, Stimulation, and Analysis Support
Prototyping, Pre-Production, Model-Making, and Fabrication Support
System Design Documentation and Technical Data Support
Reliability, Maintainability, and Availability (RM&A) Support
Inactivation and Disposal Support
Biochemical Engineering Support
Functional Areas under Program Management Services

Financial Analysis and Budget Support
Quality Assurance (QA) Support
Functional and Direct Programmatic Administrative Support
Professional Development and Training Support
Analytical and Organizational Assessment Support
Database Administrators
Public Affairs and Multimedia Support
Logistics Support
Configuration Management (CM) Support
Information System (IS) Development, Information Assurance (IA), and Information Technology (IT) Support
Computer Systems Analysts